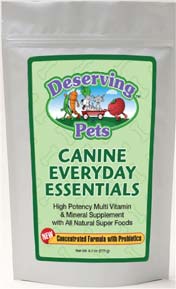 Canine Everyday Essentials has a full multimineral and full multivitamin complement along with super-foods containing powerfully healing nutrients: Kale, Broccoli, Dandelion, Beets, Carrots, Apples, Cranberry, Blueberry, Alfalfa.
The supplement contains both Probiotics and Prebiotics (Prebiotics are green foods that support the probiotic growth in the intestine).
Microencapsulation prevents the ingredients from degrading preserving their potency. It also makes the formula flavorful and delicious.